Town Star Common Loading Issues
Contact Us
If you still have questions or prefer to get help directly from an agent, please submit a request.
We'll get back to you as soon as possible.
Description

This article shows common Town Star Loading issues and how to solve them. 


Purpose


Town Star is a fun game that many users play daily. Sometimes there may be different errors players may experience when they are trying to enter the game. This article explains a few fixes to common loading problems. 


Assumptions Made
This article assumes the reader understands the information in the following articles:
How To Sign Up For a Gala Games Account‍ 

How To Submit a Support Ticket‍ 
Summary

1)  If Town Star loads to 50%, changing the following setting in the Brave Browser may fix this issue.



1a) The "Brave Shield" built in the Brave Web Browser can prevent Town Star from running correctly. By clicking the Brave icon as shown below, it will show if the Brave Shield is running.


1b) By clicking the Brave icon in the top right of the Brave Browser, this menu will appear showing that "the shields are up for this site". Clicking this button shown in the screenshot will turn off the shield:

1c) Clicking this button will show the "shields are down for this site" prompt. This will cause the website to automatically refresh.
1d) Once the website refreshes, Town Star should load successfully.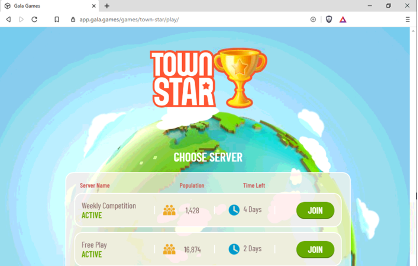 2) If Town Star loads to 60%, follow these steps.

Refresh the webpage by clicking the refresh icon in the top left of most web browsers.
After clicking refresh, it will reload the game and should fix the 60% loading issue.

3)  In Town Star, if a user's town is not showing on the map, these steps can fix the issue. 

Please login into a Gala Games account at https://app.gala.games. After logging into a Gala Games account, start Town Star by clicking the Play Now button shown below:



This issue can be caused if a user is trying to play Town Star, but their account needs to be logged back into.  


4)  Having a Town Star issue not listed above? Get help by entering in a support ticket from a Gala Games account. Follow this link to learn more: How To Submit a Support Ticket
5)  Wanting to learn more about Town Star? Join the discord by following this link: http://galagames.chat


There is a whole community around Town Star that will be able to give advice and tips to play and learn the game!